Welcome to the Website of the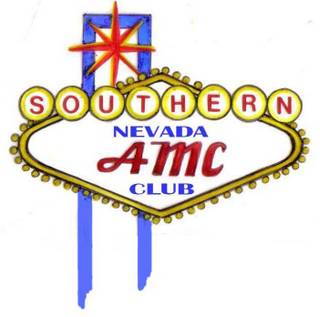 Our club is devoted to promoting pride in ownership, restoration, preservation and recognition of these legendary cars. Club members participate in many area car shows. Other club activities include meetings, parties, barbeques and more.

As an SNAMC member, you'll meet and get to know other AMC owners in Southern Nevada. The founders of the club have been involved in the American Motors hobby for over 30 years. We have great knowledge of AMC history, parts sources, technical information, AMC websites and the many great vehicles produced by American Motors. If you have a mechanical problem with your AMC, many of our members have the knowledge and experience to help you get your car back on the road. Membership includes our bi-monthly club publication "DESERT RAMBLINGS"

We want to help make ownership of your AMC or AMC-related car a little bit more special and we hope you will decide to become an active member of the Southern Nevada AMC Club.

American Motors Corporation, 1954-1988

| | | |
| --- | --- | --- |
| '55-'57 NASH/HUDSON | METROPOLITAN | RAMBLER |
| CLASSIC | AMERICAN | AMBASSADOR |
| MARLIN | REBEL | JAVELIN |
| AMX | GREMLIN | HORNET |
| MATADOR | PACER | SPIRIT |
| CONCORD | EAGLE | AMC-JEEP |
All members of SNAMC are encouraged to e-mail photos of your cars (in .jpg format whenever possible) to MrAMC@AMCRC.com